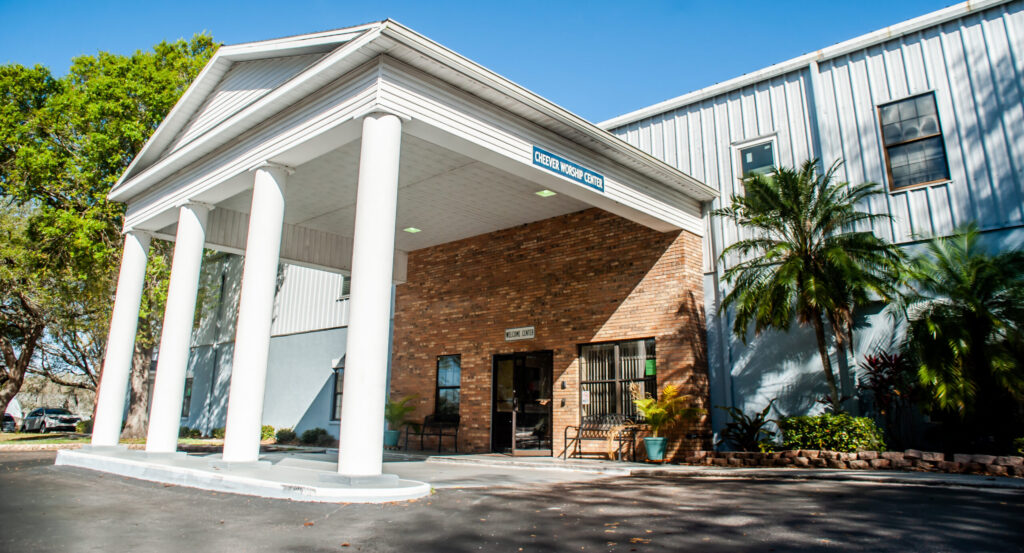 Love the old hymns?
We have that!
Prefer a more modern style of worship?
We have that, too!
Don't know yet which one helps you draw near to the Lord?
You're welcome to try out both service types out at your own pace.
Regardless of format, our worship services have one central aim: to glorify God by connecting our congregation to Him.
Sundays 8:15 AM* Traditional / Chapel
Sundays 10:45 AM Contemporary / Cheever Family Life Center
Wednesdays 6:30 PM Interactive / Chapel
*Once in a while the 8:15 service is combined with the 10:45 service. Before planning your visit to 8:15, please check our calendar or contact the church office.
Where do I go when I get there?
If you're coming for our 8:15 AM service, plenty of parking is available near the chapel building. If you'll be joining us for 10:45 AM service, you can find reserved guest parking spaces near the four white columns in front of the Cheever Family Life Center. When you turn into our campus, look for the volunteers of our Greeter Team. From parking to seating inside, they're there to make sure that your first experience with us is as smooth and welcoming as it can be.
What happens during services?
Each service lasts about an hour and 15 minutes. We sing songs together, we pray both privately and corporately, we hear the Bible preached (about 30 minutes), and occasionally partake in the sacrament of Communion. We won't ask you to raise your hand as our guest or do anything that will embarrass or single you out in any way. We do collect an offering, but that's for our regular attenders. As our guest you should not feel pressured to give.
Our members' Sunday service attire is an eclectic array of everything from shorts to suits to sports jerseys to traditional Caribbean clothing. Come as you are! We believe that your heart's approach to Christ is infinitely more important than what you're wearing when you come.
Can I attend if I'm ________?
Fill in the blank with whatever you fear might be an obstacle to being accepted – divorced, single parent, broke, an addict, a certain race or ethnicity, a skeptic, a felon, etc – and the answer is still YES! Everyone is welcome at KABC.
Children sixth grade and younger experience Jesus on their level. Age-appropriate classes taught by background-checked ministry workers are designed to instill in the children a trust in God's love and provision, a desire to make wise, bible-minded decisions, and a love that treats others in a way that follows Jesus' example.
Youth in middle school and above remain in service with the adults.
KABC does encourage tithing. However, our guests are not expected to give anything.